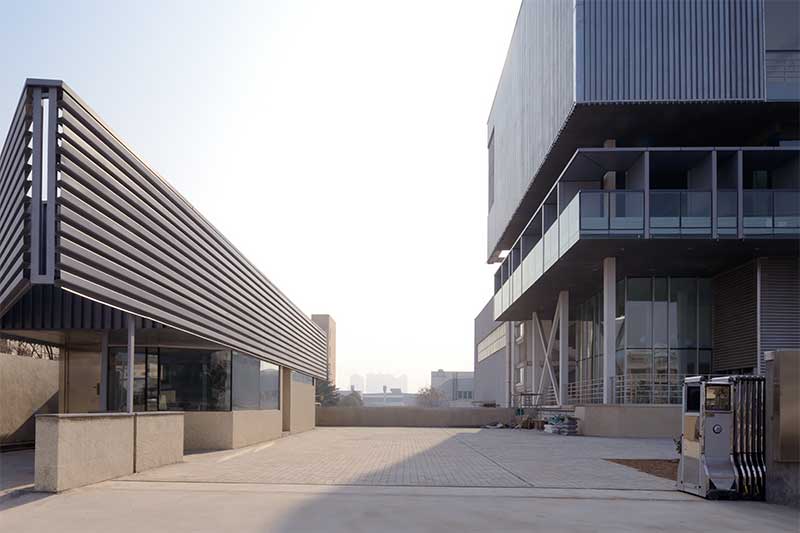 瑞昌石化办公楼
RC Petro-Chemical Office Building
设计团队:王方戟,肖潇,蔡慧明,李鹏,田中浩介
Project team: WANG Fangji, XIAO Xiao, CAI Huiming, LI Peng, TANAKA Kosuke
河南洛阳
Luoyang, Henan Prov.
2015年河南省优秀工程勘察设计一等奖
First Prize, Outstanding Engineering Survey and Design Award, 2015
建筑面积 :10997 平方米
Floor area: 10997㎡
业主:瑞昌石油化工化工设备有限公司
Client: Ruichang Petro-Chemical
设计时间:2011年至2013年
Design period:2011-2013
施工时间:2013年
Construction period: 2013-2013
办公楼位于洛阳高新区的主干道河洛路南侧,紧邻15m高的既有厂房。在我们接受这个项目前,建筑的基础已经建成。我们在原有柱位的基础上对建筑进行了重新设计。考虑到建筑位于开阔新工业开发区中,建筑与建筑之间都相隔较远,这座办公北楼的顶部以一个大尺度的漂浮箱体与环境取得呼应。箱体之下一排仅有人身体高的阳台将建筑的尺度及层数模糊了。它们也将建筑从顶部的大尺度,逐渐过渡到底层更加宜人的尺度。
办公楼一共三层,主要的办公区利用6.6米的层高形成高大开敞的空间。大空间的两侧层高3.3米的夹层里容纳着较小的独立办公室与卫生间。建筑东侧三层的位置布置了层高9米的多功能厅,其下二层布置了会议室,底层布置了员工餐厅。
建筑的主楼梯间贯穿三层,形成19m高的竖向空间,与入口门厅水平向的空间形成对比。办公楼大部分南立面被厂房遮挡无法开出朝阳的窗。主楼梯处借用高处的南窗,让阳光可以照射到建筑底部的最深处。
The office building, adjacent to a 15-meter-high existing factory building, is on the south of the Heluo Rd, Ruoyang, Henan Prov. Before the commission, the foundation of this building had already been built. Hence the design should be based on the existing foundations and arrangement of the columns. The image of a big floating box echoes with the suburban scene of this region. Below the floating box, a series of 2.4-meter-high balconies blur the scale of the façade, transforming the scale from landscape to that of human body.
This three-story-building creates large space for office with its 6.6m floor height. Mezzanines on both east and west side of the office are designed for small individual rooms and toilets.  On the east end of the third floor, a large hall is located, with a clear height of 9 meters. Conference rooms and cafeteria are on the second and first floor, under the big hall.
The19-meter-high space of the main staircase connects all three floors and mezzanines. The juxtaposition of horizontal lobby and the vertical staircase create a strong sense of contrast. Since the factory building blocked the south of this building, the first floor could not have any window to the south. The Large window on top of the staircase allows the sunshine flooding into the deepest part of the office building.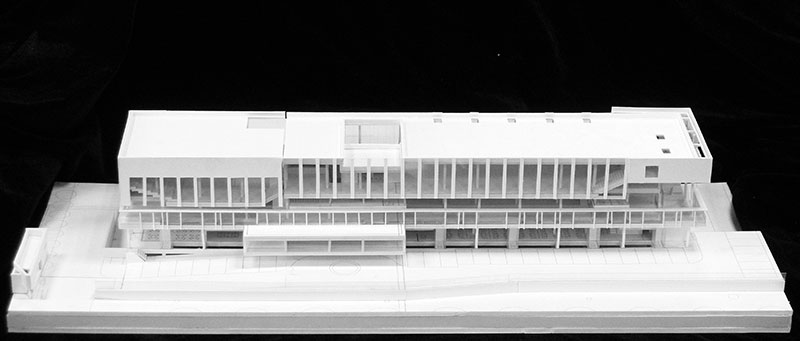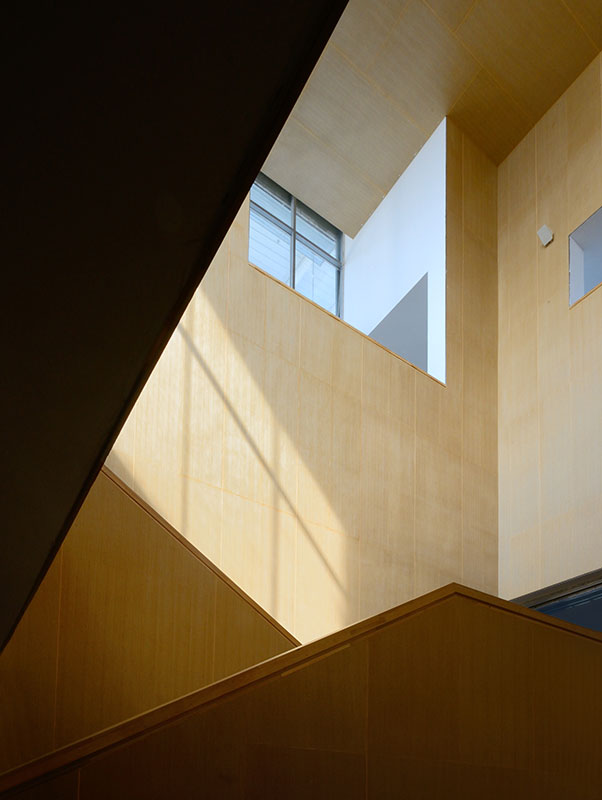 发表 | Publication
《建筑学报》2014年6月 | Architectural Journal, 2014 Jun.
《世界建筑》2016年7月 | World Architecture, 2016 Jul.