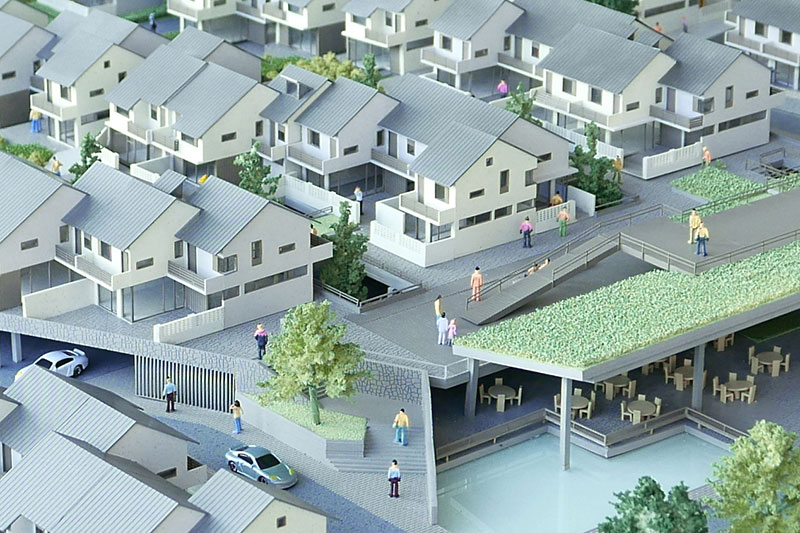 圩上丘樊
Undulating village
设计团队:董晓、王方戟、肖潇、袁烨、孟凡清
Project Team: DONG Xiao, WANG Fangji, XIAO Xiao, YUAN Ye, MENG Fanqing.
合作设计:上海玠钰建筑设计咨询有限公司
Design Collaborator: Jieyu Design
上海浦东川沙镇连民村
Lianmin Village, Chuansha , Pudong District, Shanghai.
基地面积:20424平方米
Site Area: 20424㎡
中国发展下一步的任务便是把现状1/2的农村人口合理城镇化,减轻农村人地负担,提升城镇规模与活力。上海近郊计划在保留部分自然村的同时,撤并部分村庄,提供给村民去城市生活的机会;同时,部分需要回迁的农民可进驻新农村继续生活。我们的任务便是为浦东连民村设计这样一个平移新建的新农村,安置因高速路、铁塔建造而拆迁的农户。任务书要求的功能包括地下车库、50户村居和礼堂等公共设施。考虑节约用地和未来农宅自住比例减少,在新型农村聚落设计中,我们考虑公共基础设施和农宅叠合。此外,地形化的处理,及横向错叠布置的房屋布局,将宅间空地和广袤农田联系在一起。借由地形大坡,各农宅位于不同高度,位于村中心的社区借由平台高差也可以获得较好的环境视野,村居的均好性更佳。农宅单元本身形式简单,但通过组合可形成丰富的空间和立面效果。农宅单元也发挥了其界定宅基地边界、自由应对周边社会和自然环境的功能。
The next step of Chinese government is the urbanization of half of the rural population at present, alleviating the tension of man-land relation, enhancing towns' and cities' scale and vitality. According to County Unit Planning in Shanghai, some natural villages in suburb are preserved, while some are removed to cities or into a new rural settlement. Our task is to design such a new village for resettling villagers, whose households are impacted by the construction of expressway or pylons. The program includes underground parking lot, 50 households, a hall for ceremonies and accessory infrastructure. Considering of land conservation and the decline of dwellers in village, we propose to stack households on top of the parking lot, even though the traditional land-man relationship avoid such superposition. The parking volume lifted up the households onto a small hill. Thanks to the horizontal layout of those houses, the farmland on the hill are connected with the surrounding countryside with a gentle slope. Another virtue of the lifting up is to give a better view compared with households placed near the border of this plot. There is only one shape of unit on this site. By mirroring and staggering, this unit can bring forth richness of spatial experience and elevation effect. It can also fulfill its duty to define the border of private plot and cater to varied neighborhood and natural environment.