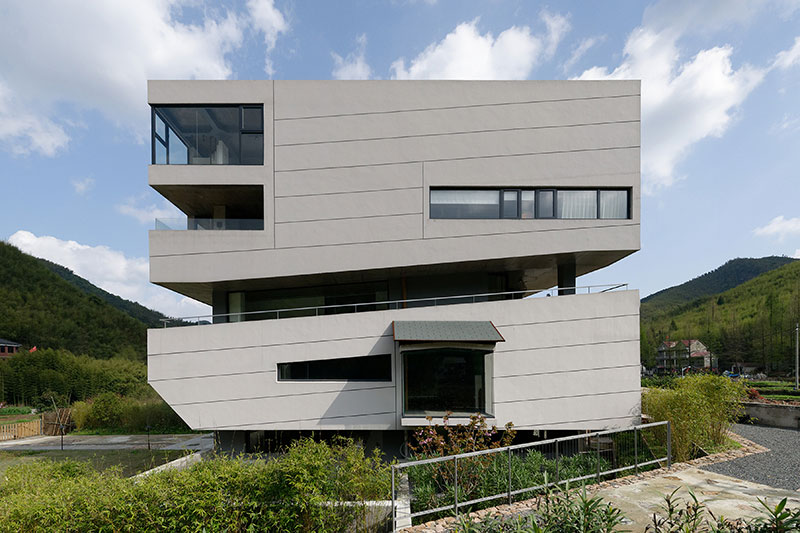 田畈里
Dibeli
设计团队:董晓、王方戟、肖潇、王梓童、袁烨、杨剑飞
Project Team: DONG Xiao, WANG Fangji,  XIAO Xiao, WANG Zitong, YUAN Ye, YANG Jianfei
施工管理:方昱
Construction Supervision: FANG Yu
浙江德清
Deqing, Zhejiang Prov.
建筑面积:560平方米
Floor Area: 560㎡
设计时间: 2017-2018
Design Period: 2017-2018
建成时间: 2019
Completion: 2019
一个由步行坡道形成的不断上升的螺旋体,在场地中围绕建筑半周后穿过建筑内部,继而到达建筑表面并环绕着建筑外围上升,直到通达至可以欣赏周围美丽景色的屋顶。作为一栋由6间客房及相关设施构成的乡间小旅舍,为了在限高条件下有效利用空间,建筑在东西方向被分为左右两部分,并进行了标高上的错层处理。两个部分之间设置了楼梯。错层处理获得了底层高敞的大堂空间,并让厨房及其他辅助部分的空间做到经济节省。为了让客房不受包裹在建筑外围坡道的打扰,每间客房在设计上都进行了相应的处理。有的有阳台与坡道相联,但通过架在坡道上部的空间获得私密性;有的则通过坡道下部的空间获得私密性,并在坡道下的低矮空间中创造出室内的亲密感;有的房间与坡道之间设置了可用窗帘将视线隔断的窗户,同时在高处设置了为私密的阁楼采景的大窗,等等。这座旅舍坐落在山村旁的农田中,虽然四周都是深奥的山景,但其眼前却是空旷的景象。环绕旅舍的坡道在创造入户路径趣味性的同时,更让住户可以经常获得投向远方山景的视野,使身处空旷空间中的人保持着对深奥山村空间的想象。坡道上接纳的不同客房的开口以及为创造捷径而与楼梯进行的融合,对这些要素的吸收都让坡道的螺旋形统领感被减弱,让螺旋成为整个建筑构成体中的一种相对性关系。压倒性特征被减弱后,它也变得更为柔和。实际使用中,人们往往会不经意地间断性地对坡道进行利用,这样它的空间感在人的体验中便自动地与其他空间交叠了起来。
The building is merged with a constantly rising spiral formed by a pedestrian ramp. The ramp starts as a path surrounding half of the building, then it goes through the interior and arrives the surface of the building. It keeps going up surrounding the surface of the building and finally arrive the roof where people can enjoy beautiful view. As a countryside hotel composed by 6 rooms and subsidiary facilities, the building is divided into east part and west part. These two parts are split-level in order to effectively use the space under the constrain of overall building height. The staircase is set between these two parts. Because of the split-level design, on the ground floor, the lobby has a tall space and the height of the kitchen and other facilities is appropriate. Every room is customized to avoid the disturbing from the ramp surrounding the building. One has a terrace connecting the ramp whereas has a space above the ramp to achieve the privacy; One achieve the privacy through the space below the ramp and create a sense of intimacy through the short space under the ramp; One has a window with curtain between ramp and room whereas has another large window on the high area for the private attic, etc. This hotel is located in the farmland near a village. It is surrounded by mountains far away whereas has open view of the farmland. The ramp surrounding the hotel not only create the interest of entry but also let the guests frequently get the view toward far away mountains to keep their imaging of mountain village. The opening to connect different rooms and ramp, and the merging with staircase and ramp to create shortcuts weaken the leading shape of the spiral ramp and let the spiral be a relationship for the composition of the whole architecture. The spiral is softer after its leading shape is weaken. In actual use, people would casually and discontinuously use the ramp, so its space would merge with other spaces in people's experience.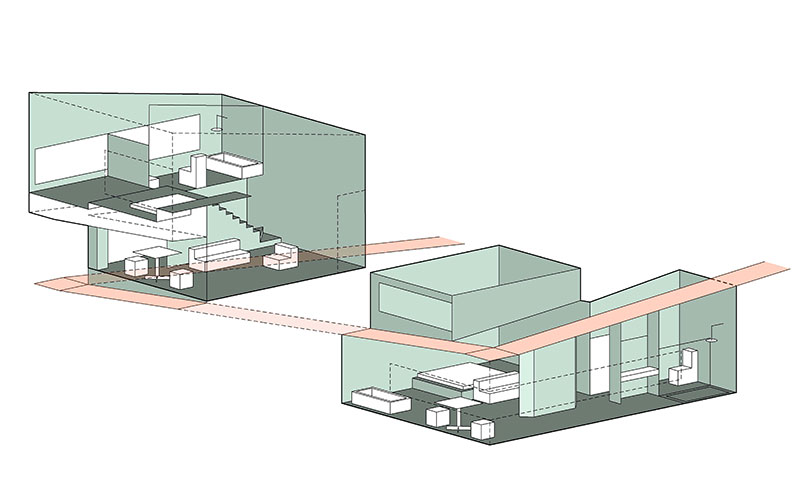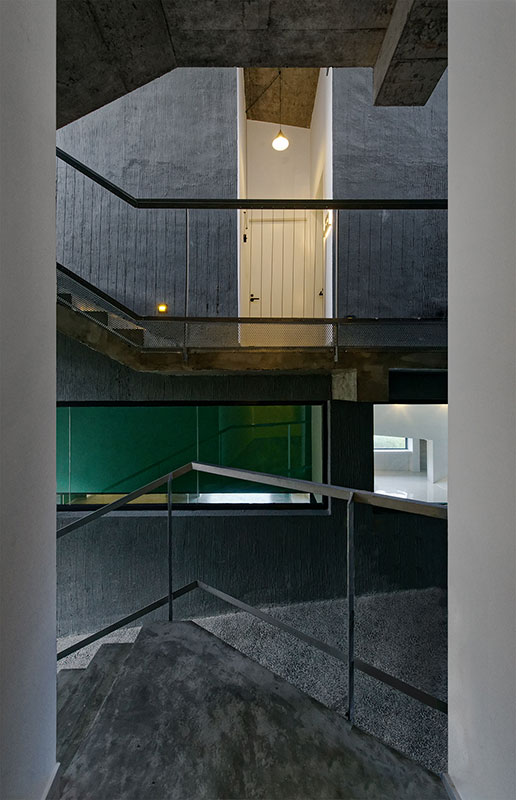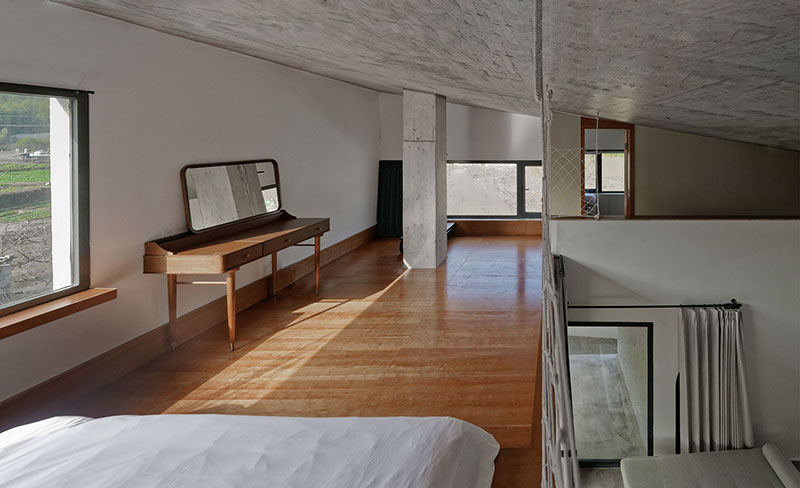 展览 | Exhibition
欲望的合理化 | Rationalization of Desire