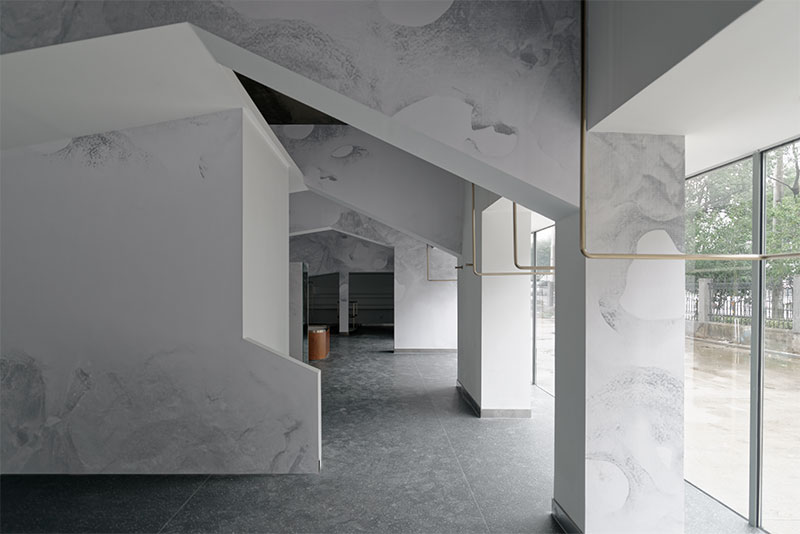 石厅
设计团队: 王方戟、董晓、肖潇、黄杨、杨剑飞
Project Team: WANG Fangji, DONG Xiao, XIAO Xiao, HUANG Yang, YANG Jianfei
浙江嘉兴
Jiaxing Zhejiang Prov.
建筑面积:1244平方米
Floor Area: 1244㎡
设计时间:2019
Design Period: 2019
在建
Under Construction
项目位于长江三角洲地区轻工业发达的嘉兴,当地轻纺工业正在经历从代加工到建立自己本土品牌的转变。本项目的业主,出于要建立与营销自己的服装品牌,需要将其厂区营造为一个体验型的集服装零售、轻餐饮、设计办公、生产于一体的产业园区。该项目的第一阶段建设包括:将原本用于办公与生产的两栋低层建筑的底层改造为服装零售店,园区两个入口部分的建筑与景观改造,及部分建筑的外立面改造。
北侧靠近入口的建筑底层改造为精品店,其为单跨钢筋混凝土框架结构,柱间有近1m高的钢筋混凝土梁,压低了原本3.9m的层高。为了保留原本厂房室内高敞的感觉,同时异化结构梁强烈的结构感,我们仅对梁所在的位置进行了吊顶处理,将其塑造为层层洞口的感觉。大部分洞口仅有柱宽的进深,而有的洞口结合试衣间、接待台等功能有了进深,形成了深深浅浅的感觉。我们将基于改造建筑本身特质的"吊梁"策略所产生的层层洞口的感觉赋予了太湖石的意向,采用了抽象化处理的太湖石壁纸,并在陈展台的设计中采用了湖石原石。精品店的南侧为家居休闲馆,初步考虑由咖啡馆、旗袍馆、儿童服饰馆、儿童diy室与家纺馆构成。室内业态待业主随着品牌打造的推进需进一步斟酌,于是我们建议可以先将该建筑底层改造为数间房间,提供于陈列不同产品;同时,设计营造了一个曲折的北廊,与南北楼宇之间加建的雨棚一起,围合了两栋多层之间的纵向小院。
Located in the Yangtze River delta with developed textile industry, garment factories in Jiaxing are transforming from an age of OEM(Original Equipment Manfacturer)to a period of building up their own brands. The owner of this textile factory aims to create experiential fashion park, including retail, café, office and production line. It is planned to be built step by step. The restoration of the first floor of two factory buildings into retails goes first, together with the layout and landscape design of the entrance space of the park.
The first floor of the building next to the main entrance on north is changed to boutique store. The original structure is one span concrete framework;,bringing up a nearly one-meter-high beam, reducing the height of the ground floor of 3.9 meter. In order to maintain the spacious feeling and alienate the structural beam, we reshape those beams to create a feeling of layered caves. Most of the caves are shallow as the width of the column, while some are deep as a room when the curtain-cave is combined with function rooms like fitting room and reception desk. We endows this layered cave with an image of Taihu Stone, by attaching wallpaper with abstract image based on Taihu Stone onto those curtain-caves.South to the boutique store is a complex of retails transformed from the ground floor of an original office building. It is intentionally composed of cafe, cheongsam store, children's garment, DIY workshop and home-textile stores, whose sale contents are postponed to the next construction stage. Based on those above, we propose to separate the floor into several rooms to display different products. In the meanwhile, a circuitous exterior corridor is brought forth, together with the connecting canopy, enclosing a intimate longitudinal garden in between two buildings.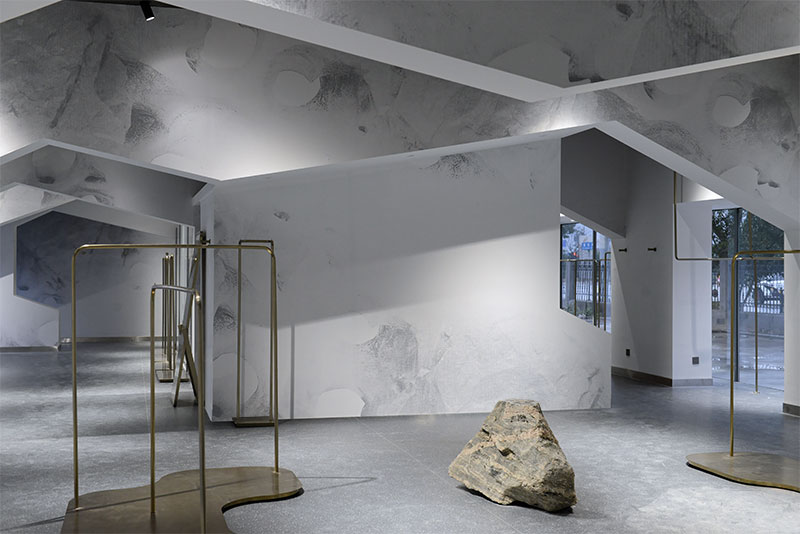 博风建筑 | temp architects