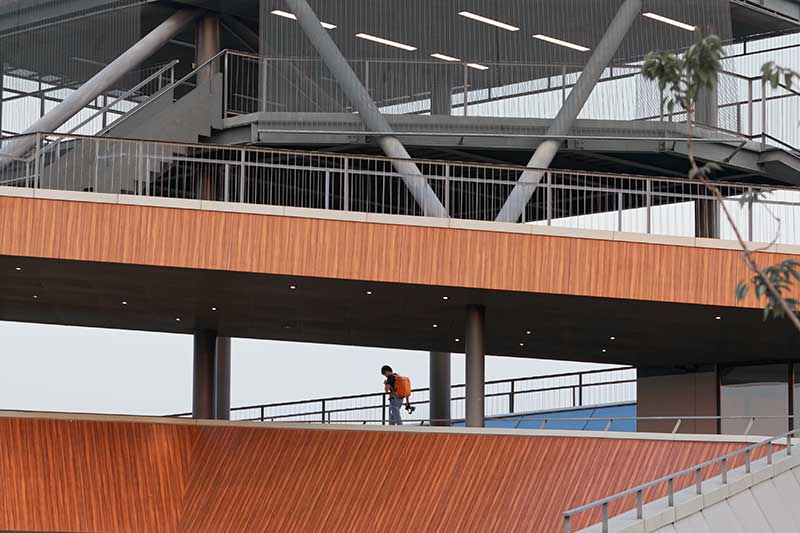 鹮环
Huanhuan Complex
设计团队:董晓,王方戟,肖潇,杨剑飞,王梓童,李欣
Project Team: DONG Xiao, WANG Fangji, XIAO Xiao, YANG Jianfei, WANG Zitong, LI Xin
浙江德清下渚湖
Xiazhuhu Lake, Zhejiang, Deqing Prov.
建筑面积:709平方米
Floor Area: 799㎡
设计时间:2017
Design Period: 2017
建成时间: 2019
Completion: 2019
鹮环是湿地公园中朱鹮繁育基地200米外,将观鸟塔与小型湿地博物馆结合起来的综合建筑。设计以一块如双跑坡道般的双跑屋面为起点进行设计的。这个往返折叠的屋顶覆盖着博物馆,同时又形成了通往观鸟台之交通坡道的主体,是设计中最基本的关系。在其上支撑起一栋距地9.5米,内有观鸟台的悬浮在空中的小屋。双跑屋面的顶端及底端各有一个延伸段。接其顶端一段成为坡道接近观鸟小屋的最后一段。接其低端的一段,则将坡道引向地面。另有一部楼梯将博物馆内部与双跑屋面的底端接通。建筑外部动线是一个连续爬升的螺旋体。螺旋体与观鸟小屋之间通过舷梯般的楼梯进行交接,让观鸟小屋在视觉中被独立出来。从结构关系来看,观鸟小屋结构与双跑屋面之下部分结构的柱网是完全吻合的。双跑屋面顶端的延伸段平面上则与观鸟小屋所处主体结构平面轴网交叉45°,并在剖面上穿插在观鸟小屋与双跑屋面之间。这样,除了其末端局部之外,它可以借用主体结构加以支撑。因此此段坡道在几何上受到结构几何关系的严格约束,在形式上却依然能表达出一种自由穿插的感觉。其顶端局部靠柱子及拉杆的组合得到支撑。设计中利用坡道侧边围栏及独立矮墙,在博物馆入口外围合出一个具有一定规模的入口广场,利用这个具有领域感的空让博物馆得到彰显。观鸟塔坡道末端是一个最远端出挑8米的楼板,它好似博物馆的大雨棚,提升了科普馆的尺度感。
The Huanhuan, which is a complex of bird observation tower and science museum, is in the wetland park adjacent to the Breeding Base of Crested Ibis, within 200 meters of distance. The design began with a primitive form of a U-shaped roof which could also be considered as a two-flight-ramp, sheltering the museum while supporting the path to the bird observation deck that is hidden inside a floating hut, 9.5 meters to the ground. Both ends of the roof are extended to make connection to the floating hut on top and a ramp raised from the ground of the wetland. An additional stair is planned inside the volume of the museum connecting the interior space to the bottom of the U-shaped roof. Since the rising spiral of exterior circulation and the observation hut are bridged by two individual flights of 'gangway ladders', the volume of the hut is isolated visually.  Beside the extension part that runs between the roof and the hut in a diagonal direction, the close alignment of the column grid between the floating hut and the U-Shaped roof makes it possible for a single set of columns to support everything except a cantilevering far end that is been raised with the help of three inclined columns.  Hence, the ramp which is been strictly restricted by the geometrical order of the structure could still deliver the experiences of free interweaving of spaces. A relatively spacious entrance plaza is encompassed by the fencings of the ramp and the free-standing walls on site. The territory of the plaza highlights the presence of the museum in the open landscape of the wetland. The deck which has a maximum cantilever of 8 meters on top end of the ramp serves as a giant canopy of the entrance to the museum, redefining the scale of the building.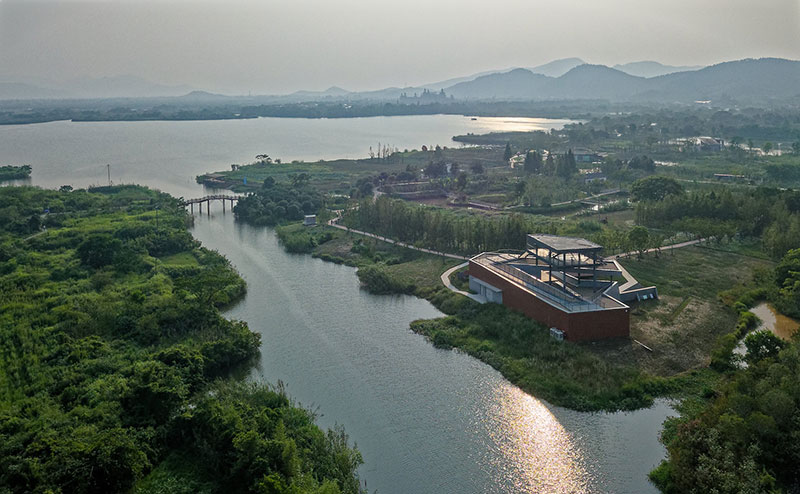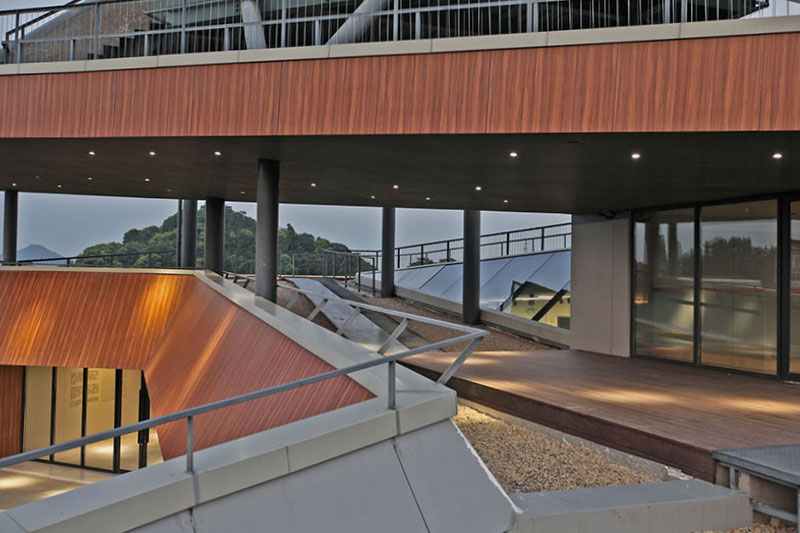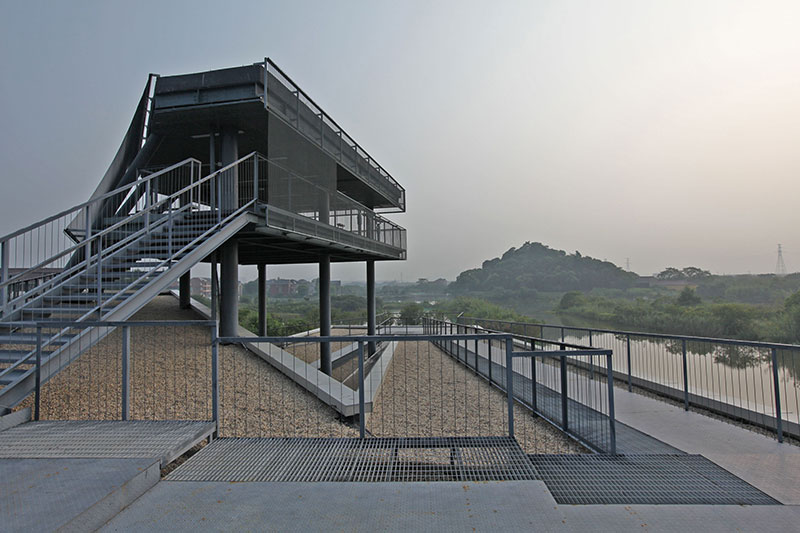 发表 | Publication
《建筑学报》2019年11月| Architectural Journal, 2019 vol.11