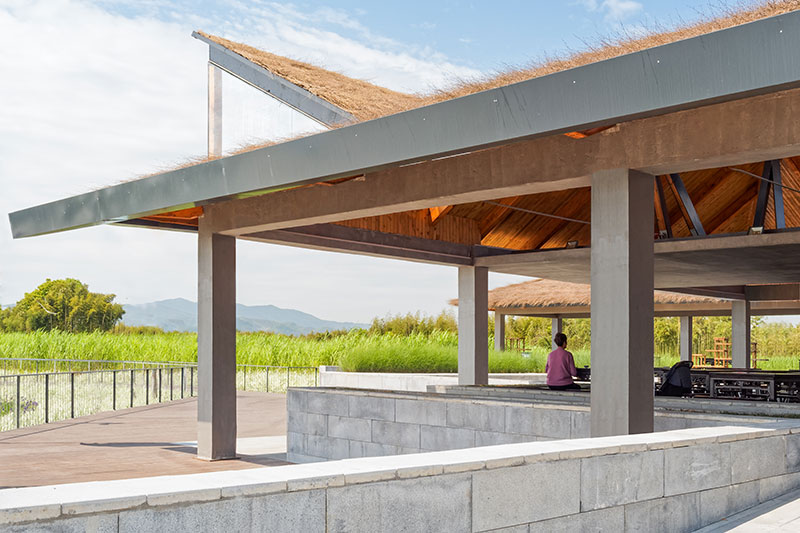 洞天寮
Teahouse of hidden sky 
设计团队:王方戟、董晓、肖潇、杨剑飞、黄杨、王梓童、李欣
Project Team: WANG Fangji, DONG Xiao, XIAO Xiao, YANG Jianfei, HUANG Yang, WANG Zitong, LI Xin
浙江德清下渚湖
Xiazhuhu Lake, Deqing, Zhejiang Prov.
建筑面积: 3000平方米
Floor Area: 3000㎡
设计时间:2017-2018年
Design Period: 2017-2018
在建
Under Construction
洞天寮由三个建筑单体构成,公共茶室、贵宾茶室与公共卫生间。三者均位于湿地公园大片水域中的岛屿上,只有乘船可以到达。船只运输是项目建设得以成立的前提条件。基于业主的要求,公共茶室和贵宾茶室采用木结构,采用自然的木材以赋予空间自然质朴的感觉,公共卫生间则采用更为实用的钢筋混凝土结构。
公共茶室的设计从形式质朴、结构几何逻辑简单的双坡屋顶出发,为了既能满足公共人流的容量,又使室内具有开敞明亮的感觉,同时又可以应对场地可能的积雪情况,设计从剖面上将两边坡屋顶拉开,在平面中间、坡屋顶的屋檐高度设置了一道混凝土楼板作为屋面,就此,室内可以形成一条窄长的天光。而混凝土楼板可以压低双坡屋顶下部分空间的尺度,为单一的双坡屋顶空间提供另一层亲切尺度层次。
贵宾茶室功能上需要若干个包厢,建筑也采用双坡屋面的基本形式,其两端做了斜切处理,使两端包厢可朝向景观有更为开阔、高敞的视野。包厢内的墙面和室外围墙融合在一起,区分室内外的玻璃界面在屋顶覆盖范围内进退错动,以拉近室内与室外环境的距离。
公共卫生间采用了L形布局,两边的单坡屋顶在L形角点交错。男女卫生间分别占据L形的一边。L形角点的外侧为公共卫生间的入口,内侧朝向L形围合的内院。从入口进入分进两边之前,可以透过男女卫生间体量之间的豁口,斜向望见内院的景色。
This project is composed of three buildings, involving Strip of Sky as public teahouse, beveled teahouse for VIP guests and L lavatory as public toilet. All of them are located on an independent island in Wetland Park, which can only be reached by water. Shipping is the prerequisite of design and construction afterwards. Based on demands of the client, wood structure is used in both teahouses, while concrete framework are used in the lavatory.
Strip of sky derives from a simple double pitch roof, which complies with a simple geometric logic. To enlarge the depth of this double pitch roof without increasing the structural span, we pull this double pitch roof apart, leaving a strip of light above. Under this strip of sky, in the height of eave, a concrete slab is added, not only to keep from raining and snowing, but also to providing a spatial layer with intimate scale.
The double pitch roof of VIP teahouse is beveled in both ends, to bring up an more open view into the wetland scenery.  Within each chamber under this beveled roof, interior walls and exterior fences are blurred, and meanwhile the glass enclosure go to and fro, erasing the boundary between interior and the natural environment around.
Both sides of the L-shaped Lavatory are half span roof. The higher frontier of the roof of one side faces to the entrance while the other side faces to the garden enclosed by the L-shaped building. When tourists enter this lavatory in the angle of this L, she/he can see in between volumes on both sides into the bamboo forest preserved on this island.