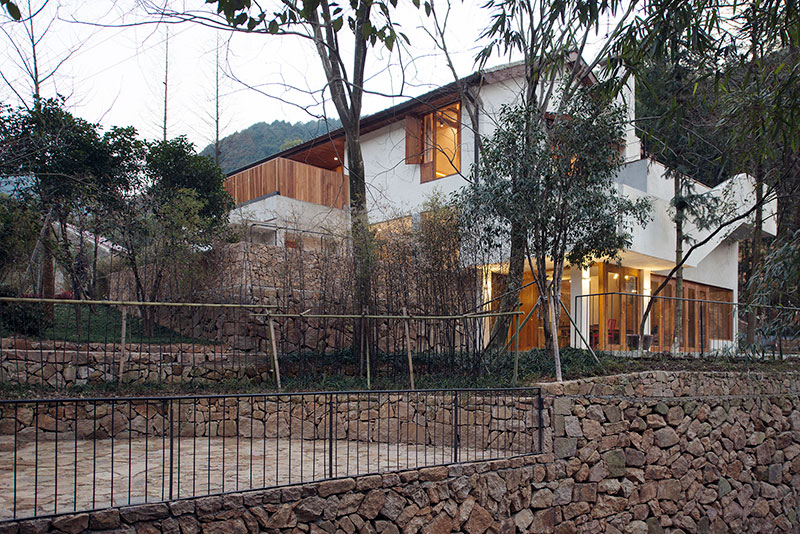 七园居
Septuor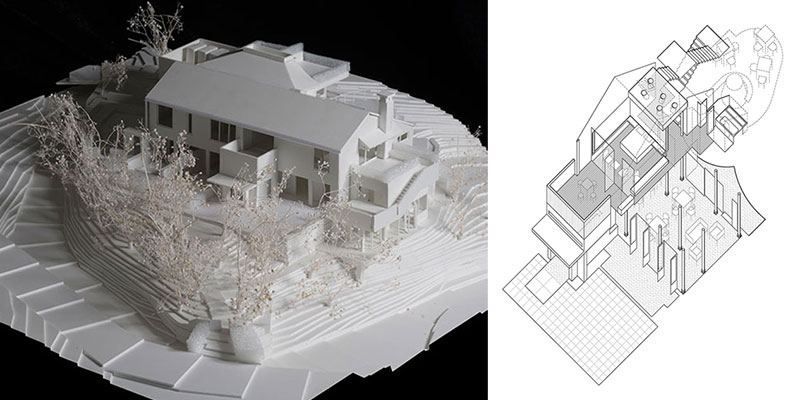 设计团队:王方戟、董晓、肖潇、张婷,陈长山,钱晨
Project Team: WANG Fangji, DONG Xiao, XIAO Xiao, ZHANG Ting, CHEN Changshan, QIAN Chen.
浙江德清对河口村西岑坞
Xicen Wu, Duihekou Cun, Deqing, Zhejiang Prov.
基地面积:950平方米
Site Area: 950㎡
建筑面积:645平方米
Floor Area: 645㎡
设计时间:2015-2016
Design Period: 2015-2016
建造时间:2016
Construction Period: 2016
七园居处在一个风景优美的山谷中,前面有一条小溪流过。建筑是一座有七个客房的乡间休闲旅社。它由基地上一组老的民宅改造而成。原有民宅中处于中心的一座两层楼的木结构房子被保留下来。围绕这座房子建造了多个小型钢筋混凝土结构的房子。为了技术上的便利,建筑结构上有很明显的新旧结构的界线,但是内部空间却依据功能及空间感知的要求进行布局,显示出的是连贯感。设计希望强调的是从外部进入每个居住单元过程空间的独特感。经过流线的组织及空间和地面高差的细微调节,进入七个居住单元中每个单元所经历的空间都是特殊的。在这个空间系列上每个单元还拥有自己独有的可以享受周围美好景色的花园。
Patio Dwellings is located in a beautiful valley, half-surrounded by a winding creek. This countryside hotel is composed of seven guestrooms, public area and service spaces. The building is renovated from a local dwelling with several volumes. The central orginal 2-storey building with wood structures among the complex is preserved. Around this preserved core a series of small-scale concrete structures are built. For the convenience of structural design and construction process, there is an obvious boundary line between the new and the old structures, while the interior spaces are laidout according to programmes and spatial perception, through which a sense of continuity is reached. The emphasis of this design is laid on the unique experiences of entering the interior space from the exterior natural environment. By means of circulation arrangement and delicate treatment of height differences, the spatial sequence entering each unit is spacial. Apart from that, every unit has its own garden with gorgeous view which can be enjoyed exclusively.
发表 | Publication
《时代建筑》2017年第四期 | Time + Architecture 2017 vol. 4
《同济八骏——中生代建筑实践》 | Architectural Practice of Middle-Aged Generation From Tongji
《建筑学报》2017年3月 | Architectural Journal, Mar. 2017, NO.582
展览 | Exhibition
2018威尼斯建筑双年展 | Venice Architecture Biennale, 2018
建筑作为生活的介质 | Everyday Life Prepositions