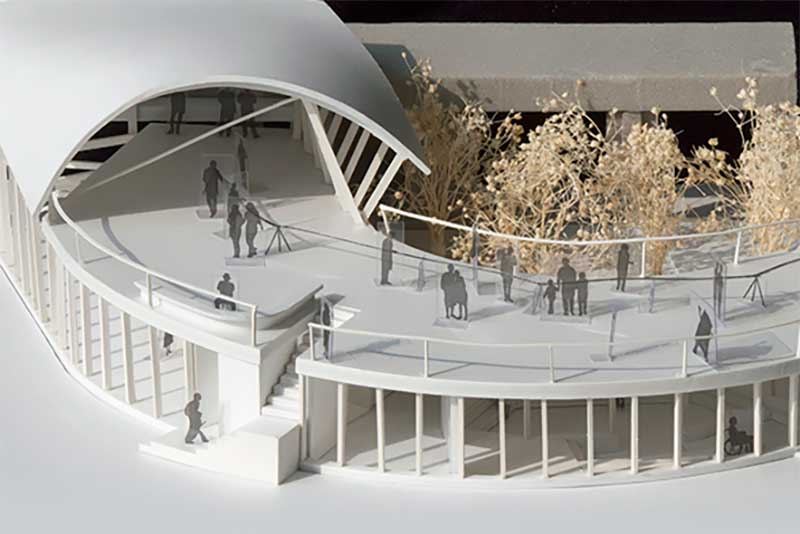 熊本共有之家
A Tadpole
设计团队:董晓,肖潇,张维,陈又新,袁烨,钱晨
Project Team: DONG Xiao, XIAO Xiao, ZHANG Wei, CHEN Youxin, YUAN Ye, QIAN Chen
2014熊本ARTPOLIS设计竞赛
Kumamoto ARTPOLIS Design Competition, 2014
评委特别奖
Jury Special Prize
熊本,阿苏
Aso, Kumamoto
建筑面积:180平方米
Floor Area: 180㎡
设计时间:2014年
Design Period:2014
Ai-life疗养院的温泉设施增建以及共有之家
Annex of Ai-Life Uchinomaki & Home for All
项目坐落于阿苏火山所在的日本熊本阿苏市,该地区以温泉疗养见长。我们的任务是给一个服务老年及病患的温泉疗养院设计一个附属建筑,作为Home-for-All("大家的家")的驻处。而Home-for-All是日本2011年震后成立公益组织,致力于建造灾时可以供大家避难的场所,平时可做社区集会活动使用。我们的设计希望新增建筑能将疗养院内院和外部公共公园的绿地资源结合在一起。考虑到新增建筑会置于这样一个绿色环境之中,我们希望它更公共、更易于到达。我们设计了一个景观化的弧形坡道,作为景观环境的一部分,也容纳了作为避难点和举办社区集会的功能。夏日祭的时候,人们可以在这个微微坡下的坡道上吃流水拉面(総麺流し);在灾难发生时,这个缓坡上也可以搭设帐篷,供无家可归者暂时居住。
除了为所有人提供居所外,该设施还包括康复室和水疗室,其隐私是重中之重。我们弯曲了斜坡以包围现有的花园,并引导公众走向计划中公园的中央。结果,新的附楼和现有的浴室都可以共享一个相对私密的花园。就计划安排而言,康复室与现有的康复室相邻放置,可补偿花园景观以遮挡现有建筑物的部分窗户。
作为公园的聚集地,我们认为公园的重要活动可以为Ai-Life疗养院的生活增添活力。万能房屋被提升到与现有平台相邻的斜坡上。展馆般的万能之家可以由双方共享。在节日期间,可以将现有日托中心的平台用作公共活动的场所。日间照料机构中的老年人和公众都可以将此庇护所用作临时的家。厚厚的半透明膜被用来隔离这个类似凉亭的家。在气候允许的情况下,可以将窗帘卷起来,以允许在坡道的两侧与自然直接相连。
Our design starts with the intention to include the existing greenery affiliated to Ai-Life Uchinomaki into the planned park. Although the planned park is aimed to mainly serving the hospitals and care houses around it, considered that the public-oriented home-for-all will be inserted into this greenery, we propose to make it more public by creating higher accessibility. We designed a landscape-like curved ramp both to fulfill the responsibility as a piece of everyday greenery, a venue for holding events and an evacuation spot. Thanks to the inclination of the slope, Soumen-Nagashi can be hold on it in summer festivals, while in flood time the lifted surface can be used to build temporary tents.
Apart from the home-for all, this facility consists of rehabilitation rooms and spas rooms whose privacy is of the top priority. We curved the slope to enclose the existing garden, and to guide the public circulation to the central part of the planned park. As a result, both the new annex and the existing bath rooms can share a relatively private garden. In terms of the program arrangement, rehabilitation room is put adjacent to the existing one, compensating a garden view for blocking part of the windows of the existing building.
As a gathering central spot of the park, we suppose that its vital activities can add energy to the life in Ai-Life Uchinomaki. The home-for-all is lifted onto the slope adjacent to the existing platform. The pavilion-like home-for-all can be shared by both sides. On festival occasions, the unused platform of the existing day-care center can be included as venue for public events. Both the elderlies within the day care facility and the public can use this shelter as a temporary "home". Thick translucent membrane is used to insulate this pavilion-like "home". When the climate permits, the curtains can be rolled up to allow a direct connection with nature on both side of the ramp.